It's 2023, and people in Denver want to spend their money at small independent businesses owned by persons of color when they can. There has been a push for awhile to support BIPOC-owned businesses, but that really came into focus during the June 2020 protests. People seek out lists of small independent businesses owned by black and Latinx people to signal their commitment to social justice and equity, and as a nod to the inequities faced by BIPOC people in the past.
So you may be in the business for a new fitness studio in downtown Denver and be wondering:
Which downtown Denver gyms are BIPOC-owned?
Let us tell you about one BIPOC-owned fitness studio in downtown Denver: Worth The Fight Boxing & Fitness Studio in the CapHill neighborhood of downtown Denver. Worth The Fight Boxing is downtown Denver's premier boxing fitness studio, offering boxing fitness (no sparring – everyone on their own punching bag), kickboxing, strength training, HIIT, and yoga with a focus on fun and empowerment. WTF Boxing is owned by Latinx woman, Gladys Santiago. Santiago lost 120 pounds through boxing, and she fell in love with it. Boxing transformed her physically, psychologically, and spiritually.
"I was inspired to open Worth The Fight to help people in Denver experience the transformation I experienced through fitness and boxing!"

-Gladys Santiago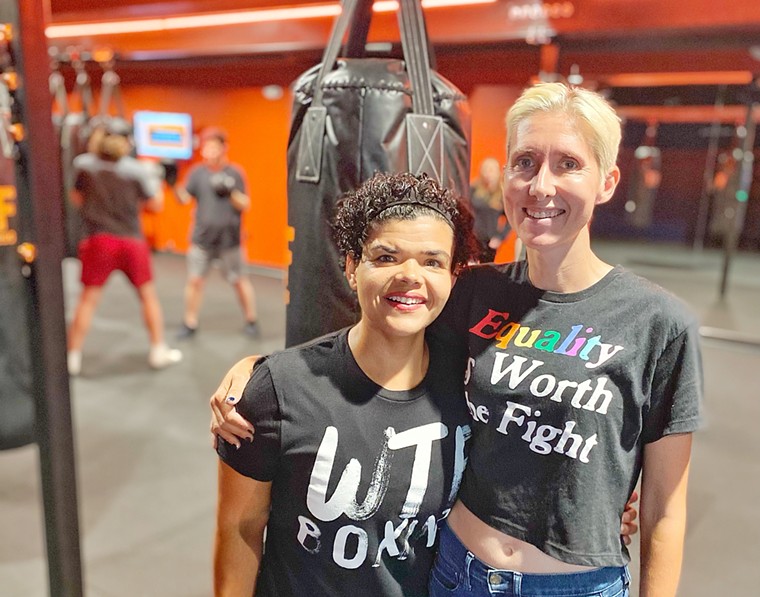 Sign up to try a boxing class at Latinx-owned Worth The Fight Boxing!
More About
Worth The Fight Boxing, a downtown Denver gym that is minority-owned

, LGBTQ-owned, and female-owned

At WTF Boxing, we believe that everyone should have a place to work out where they feel comfortable, no matter their race, gender, or sexuality. We've all been to gyms where it was uncomfortable to exercise. This is especially critical when you have fitness classes where your members all work out together. We train our coaches to be sensitive and welcoming to everyone, and we strive to have a diverse community of members. We also host events regularly to allow and encourage our members getting to know each other.

Also, WTF Boxing is one of the only – if not the only – BIPOC-owned, LGBTQ-owned, and female-owned, fitness studios in Denver. (Learn more: Why you should check out this accepting LGBTQ-owned gym in Denver) Ownership of a business matters. If the owners of a business are BIPOC (or women or gay, etc), they can empathize with the struggles of being in that group, and that will shape how they approach their business. That is true for us. That is also why we regularly post about and promote our diverse members and why we are out there working on social justice issues.

At WTF Boxing, we believe that businesses should give back to their local communities that make their business possible. WTF gives back to downtown Denver in several ways. We donate proceeds of our no-show/late cancel fees to feed unhoused people. We also hold free fitness events for the local community, and we partner with local Denver non-profits that focus on social justice to raise money and host community events for downtown Denver.

If you're looking to join a fitness studio in Denver that is BIPOC-owned, reach out to us at WTF Boxing (303-720-6071 or info@wtfboxing.com). We're happy to tell you more about what we are all about and allay any concerns you may have. This month we have a promo of 7 days of boxing classes for $29!

We recommend coming to three or more classes during your 7-day trial, which equals out to less than $10 a boxing class. Some people come every day or multiple times a day. If you're looking for a great workout and/or to learn the fundamentals of boxing at a BIPOC-owned business in Denver, we've got you covered. (Learn more: Why this Denver boxing studio offers awesome authentic boxing classes)

This promo does not roll over into a membership unless you choose. We want all our customers to be satisfied before they join our fitness studio! Learn more about our downtown Denver fitness classes!
Sign up to try a class at a top boxing studio in Denver!
🔸🔸🔸🔸🔸🔸🔸🔸🔸