Which downtown Denver gyms are most welcoming and accepting to gay and trans people?
Everyone deserves a place to exercise where they feel comfortable and accepted. As a gay woman, I've been in fitness studios that felt unwelcoming, whether because of cliques, too much bro energy or what have you. It's not always a focus for fitness studios in Denver to create a non-judgmental accepting environment for all. Elitism has no place in fitness! You shouldn't feel uncomfortable working out in your fitness studio!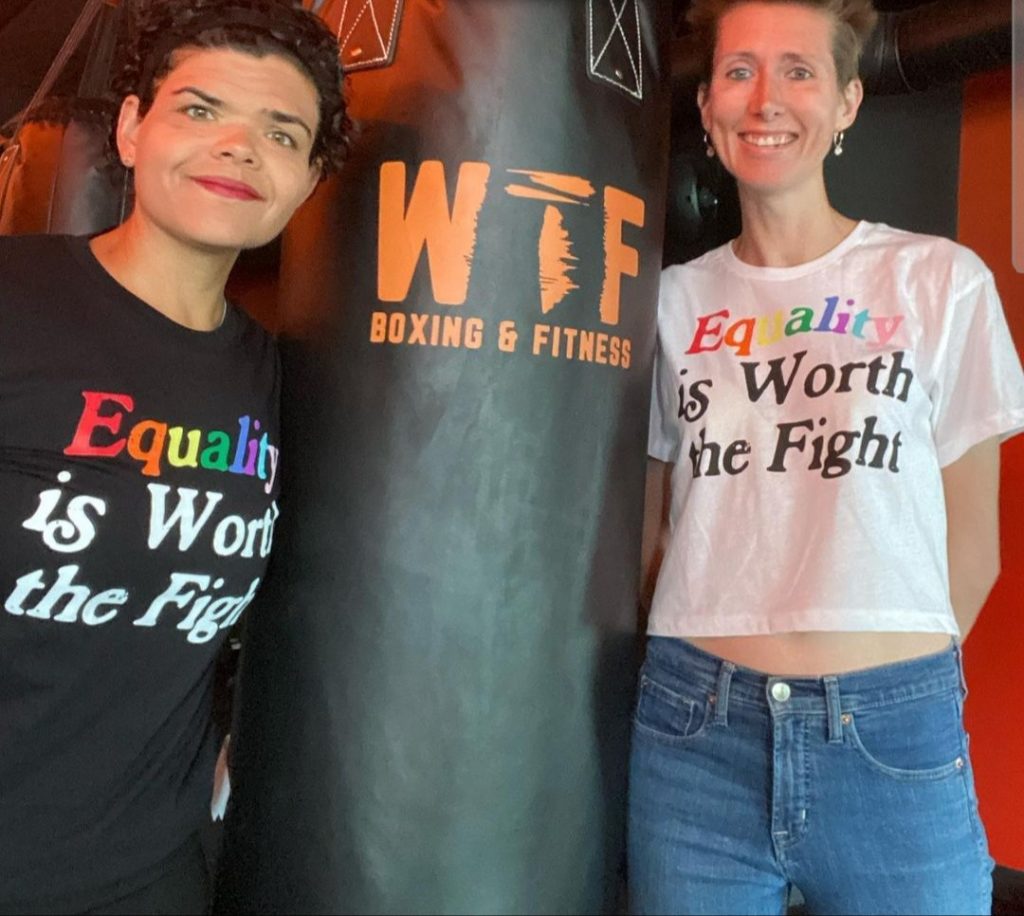 Sign up to try a class at Worth The Fight Boxing!
Are you wondering what Denver fitness studio is gay-friendly, trans-friendly, or queer-friendly, or what fitness studio is best for LGBTQ people? You've come to the right place.
Worth The Fight Boxing is a downtown Denver gym that is LGBTQ-friendly.
At WTF Boxing, we don't believe that elitism and judgment has a place in fitness. Everyone should have a place to work out that is welcoming and accepting, including LGBTQIA++ people. We've all been to gyms that where it was uncomfortable to exercise. This is especially critical when you have fitness classes where your members all work out together because everyone will be in your fitness studio at the same time. Another thing that makes WTF a great place to work out as a gay or trans person is that we have multiple queer coaches – it helps people to feel more comfortable when they see themselves represented among your staff. We also train our coaches to be sensitive and welcoming to queer people.
Also, WTF Boxing is one of the only – if not the only – LGBTQ-owned, female-owned, BIPOC-owned fitness studios in Denver. Ownership of a business matters. If the owners of a business are queer, they can empathize with the struggles of being queer, and that will shape how they approach their business. That is true for us. That is why we choose to have LGBTQ coaches and train all our coaches to be sensitive to issues that queer people might experience. That is also why we regularly post about and promote our LGBTQ coaches and members. We also have special events geared around pride month. We celebrate you!
If you're queer and looking to join a fitness studio in Denver, reach out to us at WTF Boxing (303-720-6071 or info@wtfboxing.com). We're happy to tell you more about what we are all about and allay any concerns you may have. This month we have a promo of 7 days of boxing classes for $29!
We recommend people come to at least 3 classes during their 7-day trial, which equals less than $10 a class. Some people come every day or multiple times in one day!
This promo does not roll over into a membership unless you choose. We want all our customers to be satisfied before they join our fitness studio! Learn more about our downtown Denver fitness classes!
Sign up to try a class at the top boxing fitness studio in Denver!
🔸🔸🔸🔸🔸🔸🔸🔸🔸