Looking for authentic boxing in Denver in 2023? We've got you covered
Boxing gyms come in multiple flavors. Some are boxing fitness gyms where the primary focus is working out; typically there is little focus on teaching boxing technique at boxing fitness studios. In contrast, some boxing clubs in Denver are traditional Gleason's-style boxing gyms that prioritize teaching boxing technique – at these boxing gyms, you can usually spar or prepare to fight in a boxing match, if you wish. Other boxing studios in Denver are somewhere in the middle of this spectrum from boxing fitness to Gleason's. When people are looking for authentic boxing in Denver, they are seeking a boxing gym where they can learn how to box properly, not a boxing fitness studio. With that in mind, let's dive in to answering the question of where can you find authentic boxing in downtown Denver!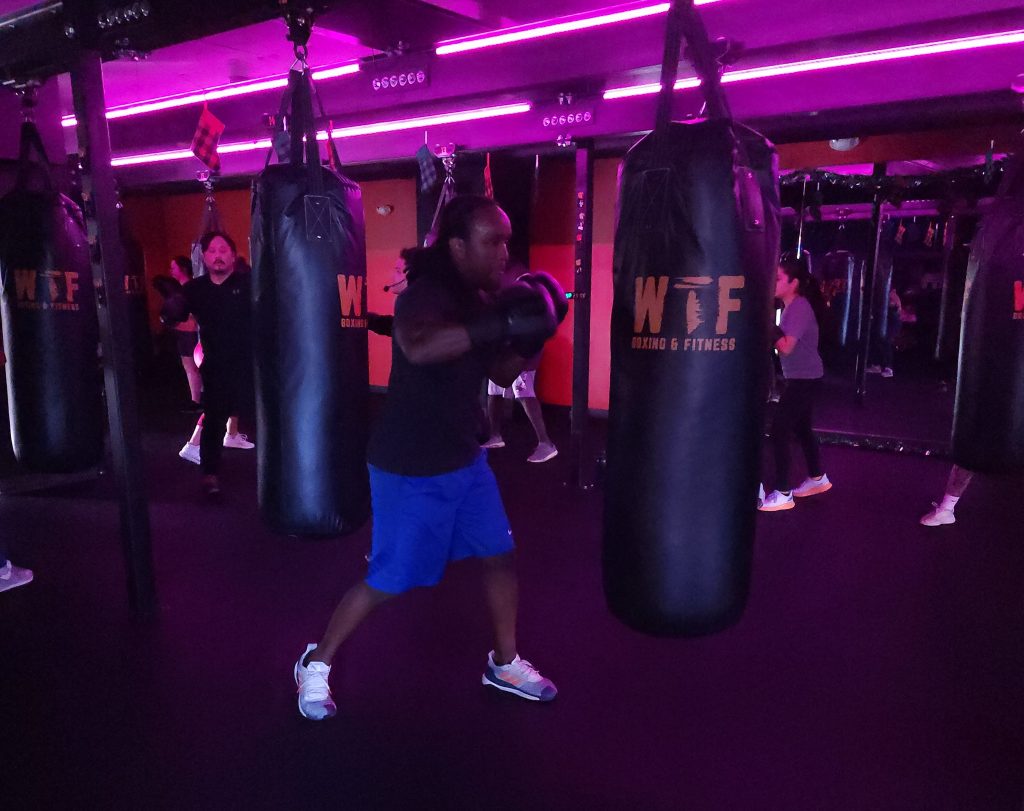 Sign up to try an authentic Denver boxing class!
ABOUT WORTH THE FIGHT: WTF Boxing is Denver's premier authentic boxing gym. We are an independent local Denver boxing gym, not a franchise or chain. We have real professional fighters on staff teaching customers proper boxing technique. We're passionate about helping people learn to box properly! Get 7 days of authentic boxing for $29 to try us without commitment!

-WORTH THE FIGHT
Are you wondering "where can I find authentic boxing classes near me?" Here's why you should pick WTF Boxing for authentic boxing in Denver:
1. At WTF Boxing, we offer small group boxing classes. Every person gets individualized attention from the coach in every boxing class.
It's not uncommon for a boxing class in Denver boxing gyms to have upwards of 25-30 people. This can slow your progress as a boxer because it is much harder for a coach to effectively teach proper boxing technique. At best, a coach in such a large class can give brief corrections to each student. Big boxing classes tend to be more like boxing fitness classes where you get a workout but learning boxing technique is not a focus. Technique is important in boxing even if you never intend to spar or box against anyone because you will get a much better workout in your boxing classes if you are boxing properly.
At Worth The Fight, we offer small group boxing classes. Classes at WTF Boxing are capped at 20 students, and they are frequently smaller. WTF Boxing trains its boxing instructors to give each student individualized technical attention and feedback in each class. We hit the perfect balance between technique and fitness – you get the best of both worlds of a traditional boxing gym and a boxing fitness studio. This makes Worth The Fight Boxing Denver a great place to learn the fundamentals of boxing, whether you're just looking for an awesome workout or whether you want to spar or fight! If you are interested in trying boxing, we recommend getting our week long trial of unlimited fitness classes and coming to at least 3 classes during your week – it takes a few classes to pick up the terminology and movements.
Sign up for authentic boxing classes at Worth The Fight Boxing Denver!
Because of Worth The Fight's small boxing classes and focus on teaching technique, our authentic boxing classes are great for both beginner boxers and advanced boxers alike. We start every class with a demo of the proper technique of the punches and defensive movements. 90% of our members have never boxed before – no experience is necessary! Are you ready to unleash your inner fighter with boxing lessons in Denver?
Our boxing coaches also regularly do mitt work with each student during class. Mitt work is like sparring but without the downside of actually taking punches. Mitt work is a great stepping stone toward sparring, if that's your goal, but it is also a GREAT workout. Many boxing gyms in Denver don't use mitts (or have students use their boxing gloves as boxing mitts, but that doesn't work). If you aren't getting genuine mitt work at your boxing gym, you are missing out. It is a core component of authentic boxing training.
2. Worth The Fight Boxing Denver has awesome boxing coaches with extensive authentic boxing experience and knowledge of boxing technique.
Hiring the best boxing coaches in Denver is a priority at Worth The Fight Boxing because coaches are a critical part delivering the best authentic boxing classes. All our coaches are very knowledgeable about boxing and fitness – we have multiple coaches with professional or high-level amateur martial arts experience. They've been in the ring (or octagon) themselves and they know what it takes. They're also highly technical – you will learn boxing technique in every class. This is one reason we are a more authentic boxing gym than boxing fitness studios where coaches typically don't have an extensive boxing background. On the flip side, at traditional boxing gyms (think Gleason's), coaches are often knowledgeable about boxing but aren't the most engaging or encouraging as coaches.
We seek to get the best of both worlds: we hire people who have deep boxing experience but who are also warm, encouraging, and motivating because members have a better experience in boxing class if they connect with their coach. We also pay above market rates because we are selective in hiring and because we believe in fair wages. We also invest significant time and resources into training our coaches. We strive to deliver a high quality authentic boxing class every time, and having great boxing coaches is key to that.
Sign up for a Denver boxing class with an awesome coach!
In addition, we set up our boxing classes to facilitate opportunities for coaches to work one-on-one with students on their technique. Our boxing instructors are amongst the students, rotating around to each person with technical corrections and mitts to ensure students are improving their boxing technique, so that you get a better workout – and enjoy yourself more, too!
In contrast, at some boxing fitness studios in Denver, the coach is up on a raised stage, demonstrating the combos, away from class participants. A coach on a stage not near or in the class can't assist students. Boxing students in such a class will not improve their boxing as quickly and they may develop technical errors that are never uncorrected. The way we set up our boxing classes is another reason we offer great authentic boxing in Denver! Come try us with a week of authentic boxing classes! No experience required.
3. WTF Boxing has the optimal boxing, strength, and fitness equipment to deliver an awesome authentic boxing class in Denver!
Proper equipment is imperative to delivering the best authentic boxing workout in Denver – and we have it at Worth The Fight Boxing! That goes for our boxing, kickboxing, strength training, HIIT, and yoga workouts. Every person in any of our fitness classes has their own full-length punching bag and enough space to move freely around it. No one shares a boxing bag because sharing fitness equipment impedes your boxing workout. Plus, from a germ perspective, sharing isn't safe.
Because of our equipment and the layout of our boxing gym, students are able to maneuver freely around your bag in Worth The Fight's boxing classes. This translates to burning more calories and simulating real boxing combinations. This makes your experience at our boxing gym more authentic.
In contrast, if a boxing fitness studio uses aqua bags, you typically cannot move freely around your bag. Aqua bags are made of rubber, filled with water, and shaped like a teardrop. (Learn more: Why are full-length boxing bags better than aqua bags in an authentic boxing class?) Aqua bags are close to one another, much closer than full-length heavy bags. As a result, students in a boxing class with aqua bags mostly stand in one place during class. This is not an authentic boxing experience. Footwork is a key component of authentic boxing, and, if you cannot move much around your bag, you are limited in the combinations you can execute. With a full-length suspended punching bag like we have at Worth The Fight Boxing Denver, you move your feet and legs a lot more, and you emulate authentic boxing. Further, it hurts some people to strike the thick rubber of aqua bags. A hanging boxing bag is softer and more comfortable to hit. (Learn more about types of boxing bags)
Also, on full-length heavy bags, unlike aqua bags, you can perform a larger variety of moves, including kicks and body shots, both of which use your legs. You get a much better and more authentic boxing workout, and a better full-body workout, on a full-length bag like we use. Denver boxing gyms use aqua bags to pack more people in (more people = more profit), not because it is a superior option for students. At Worth The Fight, we offer awesome authentic boxing training – if you want to try it without commitment, get a week long trial of unlimited boxing lessons at our downtown Denver boxing gym!
Sign up to try a class at Denver's premier authentic boxing studio!
Another type of boxing bag used in boxing studios in downtown Denver is a floor bag. A floor bag sits on the floor and is weighted down with sand or water. Floor bags provide less resistance than heavy bags, and less resistance means an inferior workout. Floor bags tip over from light strikes, let alone heavier strikes. The floor bag tipping over interferes with the rhythm of your boxing because you can't throw another strike until the floor bag pops back up.
Boxing gyms use floor bags over full-length hanging bags because they cost less and they are easy to assemble. Plus, you don't need a rack for floor bags. The issue is that floor bags provide an inferior experience as far as authentic boxing in Denver goes. We chose full-length boxing bags at Worth The Fight Boxing Denver because we want our customers to have the best experience in our boxing classes. It is much closer to authentic boxing than floor bags or aqua bags, especially when combined with the mitt work we include in our classes.
Also, customer safety is a big priority to us. Customer safety is another reason we don't have customers share equipment or squeeze lots of members into our classes. For us, a better and safer experience for our members takes precedence over maximizing profit.
🔸🔸🔸🔸🔸🔸🔸🔸🔸