The Lowdown on New Top Denver Gyms 2023
This year we have witnessed a large number of new Denver gyms coming online. This dovetails perfectly with the large number of people are looking to join a top gym in Denver, whether because they're bored of their existing workout routine, they just moved to Denver, or they want a new community. Some of the new Denver gyms come with quite a pedigree, but does that mean they're the best downtown Denver gym for you? In this article, we'll review some top Denver gyms that are new to the city to help you select the best gym for you.
Sign up to try a top Denver gym!
Pros & Cons of Some New Denver Gyms Circa 2023
Denverites tend to be very active – after all, one of the big attractions to living in Denver is being a stone's throw from a million fun outdoor activities. (We're already sad that ski season is over!) As a result of this, many fitness businesses decide to open in the Denver market, which leaves prospective Denver gym members with tons of options. This past year has been no exception to the steady stream of new Denver gyms, especially now that things are fully opened up. To aid you in your decision between top gyms in Denver, here is our lowdown on some new downtown Denver gyms:
🔸WTF Boxing & Fitness Studio is a topnotch Denver gym offering boxing, kickboxing, high intensity interval training, strength training, and yoga in its downtown Denver location.
Worth The Fight Boxing & Fitness Studio is a top gym in Denver that focuses on fun as the way to reach fitness. If your workout is fun, you'll do it more, until it becomes a habit. It sounds simple, but the workout programs of many fitness studios do not make fun a priority. Worth The Fight Boxing was founded on the belief that fun should be a priority in a workout while still getting plenty of exercise, of course. The cardio element of many WTF workouts is boxing because boxing is much more fun than other cardio workouts. Would you rather hit your own heavy bag or run on a treadmill? (Learn More: Three Reasons to Choose This Authentic Denver Boxing Gym)
Let's ban the word "exercise" because of its association with drudgery and replace it with "move more in the ways you enjoy", whether that is mountain biking, jujitsu, dancing in your room, building houses for Habitat for Humanity, etc.

-WORTH THE FIGHT BOXING OWNER, GLADYS
The most important thing to note is that Worth The Fight Boxing Denver is boxing fitness, not boxing for sport. This means no hitting other people. Everyone boxes on their own heavy bag. Worth The Fight is like an Orangetheory but with boxing for cardio rather than running. Boxing is a full body cardio workout that burns at least as many if not more calories than other popular cardio workouts. (If you're not familiar with boxing as a workout, this article on five reasons boxing is a great workout is a useful resource.) In our classes, you spend half the time hitting your bag and half the time doing high intensity interval training (that is, performing strength building exercises in bursts of high intensity with rest periods in between). Don't worry if you've never boxed before – many members are in the same boat, and WTF is great at helping beginners pick it up. If you'd like to try Worth The Fight without risk, get a trial of seven days of unlimited authentic boxing classes!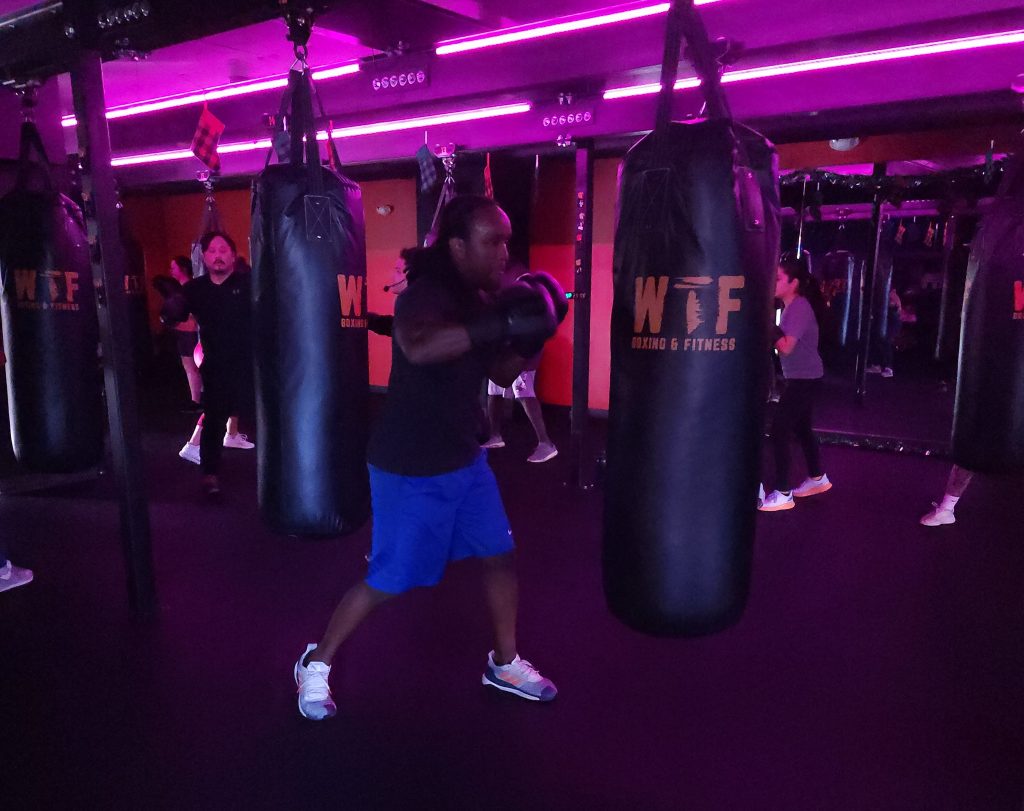 Sign up to get awesome membership offers at top gyms in Denver!
Worth The Fight's workouts can be done by someone at any fitness level. Since everyone has their own heavy bag and equipment, they can increase or decrease the difficulty as they desire. Boxing with good technique, using your whole body, is very physically challenging, especially in high altitude Denver. Members new to boxing can ease into it. Worth The Fight's fitness classes do not include movements that the vast majority of adults cannot do, such as handstand push-ups. Any difficult movement comes with modifications for newer members.
Elitism has no place in fitness. Worth The Fight is an accepting non-judgmental environment no matter where you are in your fitness journey.

-Worth the Fight Boxing & Fitness Studio
The elitism and judgmental attitude in fitness is a problem in some Denver gyms but not having that judgmental environment at Worth The Fight is critical. No one should feel like they have to be in shape just to go to their downtown Denver gym! If this sounds like the right Denver gym for you, sign up for a 7-day trial of unlimited boxing classes and see if it's your cup of tea! We'd love to have you.
Worth The Fight does not believe in quick fixes to fitness or weight loss, like unregulated supplements, restrictive diets, crazy exercise regimens, or six-week challenges. Unfortunately, there is no quick fix to get in shape or lose weight. Even if you get a little fitter or lose some weight, quick fixes are not sustainable long-term. One of WTF's founders was able to lose 100 pounds (and keep it off!) through long-term lifestyle changes incrementally over time. Shedding the weight and getting very fit was a life-changing experience her that showed her the power of fitness and boxing, and that inspired her to open Worth The Fight and guide other people through the same transformation.
If you are looking to get fitter or healthier or to lose weight, and you're sick of quick fixes and six-week challenges that leave you even worse in the long term, Worth The Fight will be a good fit for you. WTF will guide you toward your fitness and health goals in a sustainable way.
There are some downsides to WTF. Boxing can be intimidating if you are new. It can be frustrating when you're trying to combine punches and defensive moves and you can't put it together. But the trainers are great at helping people pick boxing up and Worth The Fight's programming is specifically designed to make it easier to perform complicated combinations. Once you get the hang of boxing, you'll be hooked. Also, if you're looking for a workout that is more akin to CrossFit with a focus on barbells, that's not what WTF offers for the most part. There are no barbells, pull-up bars, kips, etc., but WTF workouts will kick your butt anyway.
WTF Boxing is a BIPOC-owned, women-owned, LGBTQ-owned gym. The owners are Uptown Denver locals who are passionate about bringing about health transformations to their members, and they are in their Denver fitness studio every day helping members along their fitness journey. It's a very personalized experience – WTF cares about every member. They hold events to help the community bond and send handwritten cards to their members.
🔸F45 Denver is a new gym in downtown Denver offering a great workout consisting of circuit-based high intensity interval training.
F45 launched as a fitness franchise in the U.S. a few years ago after getting its start in Australia, but it has quickly risen to be a popular fitness phenomenon, which is evidenced by their thriving subreddit. Denver is no exception. F45 Denver focuses on high intensity interval training incorporating functional movements (i.e., movements similar to ones you do in your day-to-day life) performed in a circuit. Each class consists of spending a set amount of time performing an exercise followed by a set rest period before you move to the next station. F45 has cardio classes and strength classes, but only one of the two is offered each day. For example, all of Monday will be the same strength class then all of Tuesday will be the same cardio class. This is something to note if you are looking for cardio and strength in the same workout on the same day. F45 Denver's slogan is team training, life changing. F45 extrapolates on in this quote:
F45 is specifically designed to provide a functional full-body workout while improving energy levels, metabolic rate, strength, and endurance. The team mentality at F45 Training helps members transform their lifestyle physically and mentally while encouraging community growth and a no-ego attitude.

-F45
Classes pass quickly at F45 in Denver. If you are very busy, you will save time with this Denver gym where you can be in and out in 45 minutes, particularly since F45 says you can burn up to 1,000 calories in a class which is a good return on the relatively short amount of time invested. At F45 in Denver, you will find a large amount of fitness equipment ranging from sledgehammers to sandbags to revo bars to trap bars to sleds. (Don't worry if you haven't used something – the instructors will show you how!) We have never worked out at any other Denver gym that incorporated so much novel fitness equipment. The good thing is that all the variety will keep your interest.
F45 says its programming is done by an elite athlete. We felt the programming was pretty good – time passes quickly because of the circuit-based intervals – but we had a few issues with the workouts. For example, in one workout we had to put a revo bar (a heavy bar) across the back of our shoulders and then hop from one foot to the other kind of like a jig. We felt this movement was somewhat dangerous if you were to lose your balance while jigging with a heavy bar on your back. Sometimes the classes felt kind of thrown together, like one class that seemed to heavily feature various forms of jumping. On the other hand, we enjoyed most of the classes.
Some fitness professionals have alleged that F45 programming puts people in average fitness at risk of injury. One factor may be that diversity of equipment we mentioned above – if you don't know how to use it properly, you could injure yourself. But others disagree that F45's programming puts people at elevated risk for injury. Maybe the lesson here is that there is risk with any workout and, whether you join a Denver F45 or another Denver gym, make sure that you know how to use fitness equipment properly, what weight/strength is appropriate for you, and what the proper technique is, before performing workouts.
When you are new to a Denver F45, it can be a little intimidating because the programming is complex (all the workouts have F45 names like "Hollywood" that F45 veterans are familiar with but these names don't intuitively describe the workout so they won't mean anything to an F45 Denver newbie). You will catch up with all the F45 terms of art if you keep attending Denver F45 classes. If you join the F45 subreddit, you will pick it up even faster.
Also, you spend a lot of time switching between stations which is all time you are not working out. This is where the diversity of F45's equipment can be a problem because in between each station you have to determine which sledgehammer, revo bar, etc. is right for you in a period of, say, 15-20 seconds. Any extra time this takes uses up time you were supposed to be working out. We found that we spent more time not working out than we expected as a result of this.
Although it has a few drawbacks, there is no question that overall F45 is a new Denver gym that is a good choice if you are looking for a fast circuit-based HIIT class. They have many satisfied customers. You know exactly what you are getting since F45 is a franchise and everything is standardized across all their locations.
We hope this helped you to pick a top new Denver gym that's right for you – and we'd love to see you at WTF! Grab a week long trial of unlimited classes at Worth The Fight and see if we're for you! If you are hungry or thirsty after all that working out, you can satiate yourself at one of these great restaurants in Uptown Denver or one of these great downtown Denver bars.