Which downtown Denver fitness studio is most accepting to queer people?
At Worth The Fight Boxing Denver, we believe that fitness should be accessible to all. Everyone should be able to work out without feeling judgment or discomfort – in fact, everyone deserves a fitness studio in Denver where they feel welcomed and accepted. If you're LGBTQ, BIPOC, or female (or even if you're not), you may have been in downtown Denver gyms where you didn't feel comfortable. It could have been due to fitness bros, exclusionary behavior, judgment, feeling different than everyone else, or some other reason. Not every downtown Denver fitness studio places an emphasis on creating an inclusive environment, but it is time for that to change!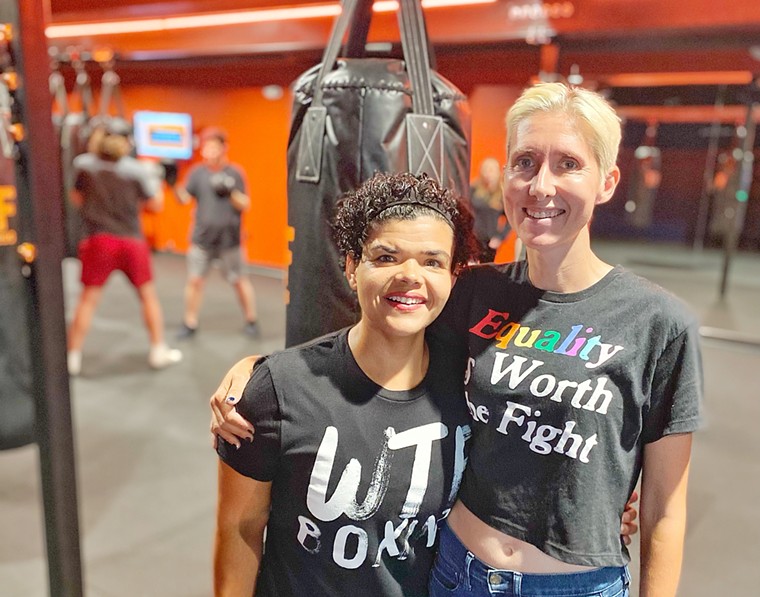 Sign up to try a class at Denver's premier queer-friendly fitness studio!
Looking for a queer-friendly fitness studio in Denver or wondering "where is a LGBTQ-friendly gym near me"? You've come to the right place.
Worth The Fight Boxing is downtown Denver's premier queer gym.
Elitism and exclusion has no place in Denver's fitness industry in 2023. Although inclusivity is becoming more of a focus in fitness as time goes on, we're not there yet. Even though everyone has the right to a downtown Denver gym where they can feel comfortable and accepted while they work out, the reality is that many queer people still prefer to seek out fitness studios that place an emphasis on having a welcoming environment for LGBTQ folx. When you are attending a gym where you work out mostly in fitness classes, this becomes even more important since all the members are in the gym at the same time.
Luckily, if you are a queer person looking for a queer-friendly gym in Denver, we've got the answer: Worth The Fight Boxing Denver! Please note that no boxing experience is required to join – the vast majority of our members are new to boxing! (Read more: Choose this Denver gym for authentic boxing training)
Worth The Fight Boxing is a great queer gym for several reasons. One reason is we have multiple LGBTQ coaches on our staff. Having queer coaches on staff helps LGBTQ folx feel more welcomed in the studio. Representation is important! Additionally, part of our staff training includes how to be sensitive to the needs of our diverse members. We have very diverse membership, which we love! We think it is awesome that our fitness studio brings together people from so many different backgrounds and unites them in their journey toward fitness and wellness. It's something unique that we can offer among the downtown Denver fitness studios! If Worth The Fight sounds like something you'd like to try, we recommend getting our week-long trial of unlimited fitness classes and coming at least 3 three times!
Another reason Worth The Fight is a great choice for queer gym is because we have lots of events to help our members get to know each other. We do this because we want to create a supportive fun connected community for other queer members and our non-queer members. We've had events such as Anti-Valentine's Day kickboxing and cocktails (complete with saging to get rid of the bad ex energy and rose quartz to attract the BDE – just kidding), a Pride party of course, stink & drinks where we partner with local breweries, wineries, or distilleries for a community workout followed by drinks, Field Day Fight Club where we mix working out with the fun of field day, and more. If you're looking for a new fitness regimen and a great community all wrapped up in one, you've found it!
Also, Worth The Fight Boxing Denver is one of the only queer-owned, female-owned, BIPOC-owned fitness studios in Denver. A business' owners make a difference. As LGBTQ women, we have the lived experience of being queer and we are intimately familiar with the challenges of being a queer person, which impacts how we run our business. That is one reason we chose to have queer coaches and ensure all our coaches are informed of and sensitive to issues that LGBTQ folx face. It is also the reason we highlight our queer members and instructors on social media. We're proud of our community and we want to celebrate them!
If you're on the lookout for a queer gym, contact us at 303-720-6071 or info@wtfboxing.com – we're happy to answer any questions or concerns you may have, and we'd love to tell you more about what Worth The Fight Boxing Denver is all about. We know that people are sometimes intimidated by the thought of joining a fitness studio, doubly so if they are queer, but we strive to be as welcoming and unintimidating as possible. One reason we have a week long trial of unlimited fitness classes is to allow people to try our Denver fitness studio without commitment. That way people get a chance to find out if we are a good fit before they make a big financial commitment.
Sign up to try a class at a top queer gym in Denver!
We recommend attending at least three workouts at Worth The Fight Boxing Denver during your trial. It takes more than one class to get comfortable with the punches, kicks (if applicable), and defensive movements that you will be using in our boxing classes. If you're new to boxing, never fear – you're in good company. The vast majority of our members are new to boxing as well. Every one of our boxing classes starts with a demo of the movements that will be used in class so all students are familiar with the terminology and movements. Our Denver boxing fitness studio is technique-focused, so people can get a lot out of our fitness classes no matter whether they are a beginner or more advanced. (To learn more about why we focus on technique and how we approach our workouts, read 3 Reasons to Try This Denver Boxing Gym)
Also, please note that your week trial will not transition to a membership unless you elect that. We run our business ethically and we don't use any of the questionable tactics that you sometimes find in the fitness industry such as automatically enrolling people in memberships, charging initiation fees, etc. That means that there is no risk to getting our 7-day trial – we hope to see you on the bags!
🔸🔸🔸🔸🔸🔸🔸🔸🔸