Boxing fitness is catching on quickly in Denver – new boxing fitness studios are opening on the regular in downtown Denver neighborhoods. More and more Denverites are coming out to try this awesome full-body cardio workout! But the plethora of Denver boxing gyms raises a dilemma: which downtown Denver boxing studio should I try? In this post, we will answer this question. Come on – let's dive in!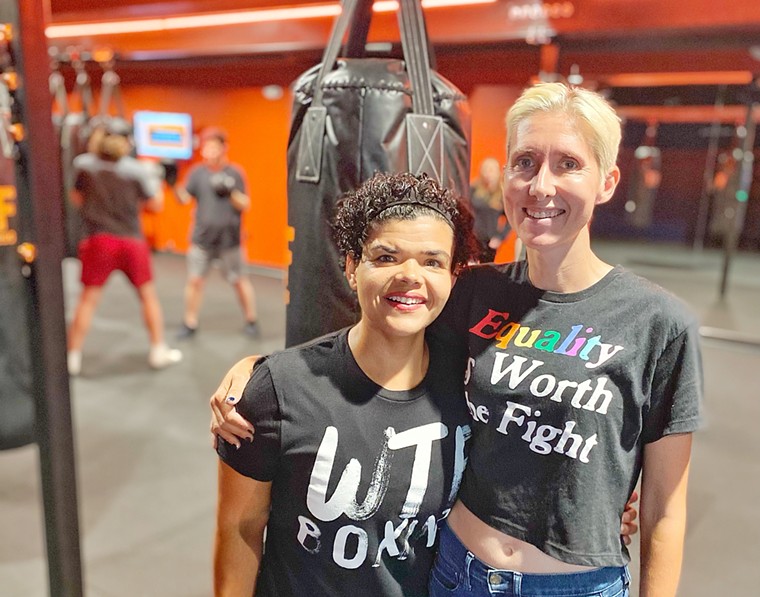 Are you wondering where to find great Denver boxing? We've got you. Here are three reasons WTF Boxing is the Denver boxing studio for you:
1. You will get one-on-one attention in WTF Boxing Denver's boxing classes.
Boxing classes in many downtown Denver boxing studios have more than 30 or 40 people. It's not possible for a boxing instructor to spend time assisting each person in a boxing class with 30+ students. In contrast, boxing classes at WTF Boxing Denver have no more than 20 people. WTF boxing coaches are trained to spend one-on-one time with each participant in our boxing classes. In every class, our boxing trainers correct each person's technique and do mitt work with each person. Mitt work is super fun – it is like sparring but without the downside of actually getting hit. We also just added a mitt work class which is lit – If you'd like to try a mitt work class, reach out to us at info@wtfboxing.com, and we'll hook you up.
The trainer at some Denver boxing gyms is on a platform, separate from the class. At WTF Boxing Denver, the instructor is in the midst of the class, rotating around to offer technical pointers and provide assistance. A coach on a platform cannot do this. Gladys and I started Worth The Fight because we want to enable our members to reach their fitness goals and advance in heir fitness journeys. You will get individualized attention in every boxing class at WTF Boxing Denver. Come see what we are all about – get a week long trial of WTF Boxing for $29!
Sign up to try a top Denver boxing class at Worth The Fight Boxing!
2. You'll get the best boxing workout in Denver at WTF Boxing.
Any boxing studio must decide how much to focus on technique versus fitness. The thing is that good technique is required to get the best workout from boxing, but centering technique too much can impede someone's workout because it means stopping them to fix their technique. Some Denver boxing clubs focus purely on fitness and they don't place much emphasis on technique. You swing your arms to your heart's content, but you aren't getting an optimal workout because you aren't using proper form. Proper boxing is a full-body cardio workout – the power in your punches comes from your legs and core, not from your arms. These gyms also tend to pack people in so that they don't have space to rotate freely around their bag, which also reduces the effectiveness of the workout.
Alternately, there are Denver boxing gyms that are instructional and focus on technique heavily. The problem with this is that most people aren't trying to prepare for a boxing match or even intend to spar. They simply want to work out.
WTF Boxing hits the perfect balance between these two extremes. Although WTF Boxing is a boxing fitness studio rather than a traditional boxing club, we still teach technique. Our coaches will teach you proper technique. You can get a great Denver boxing workout and also learn boxing technique at WTF Boxing Denver. Come and see for yourself – we'd love to share our studio with you. Get a 7-day trial of unlimited boxing fitness classes in Denver for $29 to try us without commitment!
Sign up to try a class at Denver's best boxing fitness studio!
3. WTF Boxing has the optimal boxing and strength training equipment for a killer Denver boxing workout!
WTF Boxing has the ideal equipment for our boxing, kickboxing, strength training, HIIT, and yoga workouts. Every person in a Worth The Fight boxing class has their own full-length heavy punching bag with plenty of space to fully maneuver around their bag. You will never share a boxing bag (or other equipment) with another person at WTF Boxing Denver because sharing equipment interferes with your workout and it isn't safe from a germ perspective.
Being on your own full-length boxing bag will give you the best boxing workout. In a WTF boxing class, you can move freely around your bag which means you burn more calories and more closely emulate throwing real boxing combos in a boxing match. This is usually not possible when using aqua bags (which are teardrop-shaped rubber bags) because aqua bags are typically hung very close to one another, not allowing you to rotate fully around the bag. You are able to use your legs way more with a full-length punching bag. Further, the hard thick rubber of aqua bags can be painful for some people to punch. A hanging boxing bag is more comfortable to strike.
Also, on full-length heavy bags, unlike aqua bags, you can execute kicks and body shots, which require you to use your legs. Aqua bags are too short for body shots and kicks. This results in an inferior boxing workout because you aren't involving your legs in your workout nearly as much. Denver boxing studios choose aqua bags because you can pack more people into a boxing class (because aqua bags don't swing as much as full-length heavy bags), and more people in a class means more profit. But aqua bags provide a worse experience for the customer.
A floor bag is the other punching bag used in some Denver boxing gyms. A floor bag is the type of boxing bag people sometimes have at home that rests on the floor. It is filled with sand or water to weight it down. Full-length heavy bags are better than floor bags because they provide a lot more resistance than floor bags. More resistance = better boxing workout. Floor bags tip over easily even from light punches and kicks. This also impedes the flow and rhythm of your boxing combinations because you have to wait for the floor bag to pop back up before you throw another punch or kick.
Boxing studios choose floor bags over full-length heavy bags because they are cheaper and easier to assemble. They don't require a rack. But, as with aqua bags, floor bags provide an inferior experience for the customer. We chose full-length boxing bags at WTF Boxing Denver because
Did you know we also have Denver kickboxing classes at WTF? Try a kickboxing class at WTF Boxing Denver with a week long trial for $29. This trial requires no commitment. It does not roll over into a membership unless you choose to do so. We want everyone to be fully satisfied before they join our Denver boxing fitness studio.
At WTF Boxing, safety is paramount. That is why we don't pack the boxing bags tightly in our Denver boxing gym and why our members don't share equipment. It would be more profitable for us to have more people in class, but it would be a worse and less safe experience for our customers. Our boxing trainers also know how to properly perform all movements in our Denver boxing classes, which reduces the chance of injuries from improper technique.
Looking for Denver boxing? Sign up to try a boxing class at Denver's top boxing fitness studio!
🔸🔸🔸🔸🔸🔸🔸🔸🔸